Working with Clients Worldwide
Working with Clients Worldwide
Armenia Technology Center does outsourcing for projects for Clients within site locations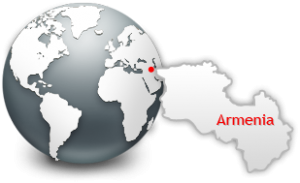 or in nearby locations.
Armenia Technology Center does offshoring for clients globally out of its Armenia Development Platform, where lower costs are important for the Clients.
Different seniority level engineers are assigned to projects for a best fit to match the Client need.
High level architectures are utilized from the Technology center for projects, where new ground-up development or new systems are needed.
QA teams and documentation personnel and artists are utilized for doing a complete project.
Pricing and costs are based on skills need, seniority of personnel, length of engagements and other parameters.
Point of Contact and project managers assigned for all projects, daily and weekly e-mails, conference calls and web updates are done to keep close contact with Client and high productivity level.
Armenian Technology Center has over 12 years of expertise in providing IT Offshoring/Outsourcing services to different industries such as Financial Services, Banking industry, Telecom, Retail and Whole-Sale, Healthcare, Utilities, TV, Public Sector, etc.
Business services include Application Development and Maintenance Services, Product and Solutions Engineering Services, Migration Services, QA and Testing Services, Business Process Outsourcing, Managed Operations and other.
Certification
eXtendia is ISO 9001:2008 certified
eXtendia development and application management processes are based on ISO standards
Quality organization includes quality manager, international audit, defect tracking, etc.
Working with Clients Worldwide

,